By Julie Muhlstein, Herald Columnist
Jenifer Lambert stood in the wind and looked across the water.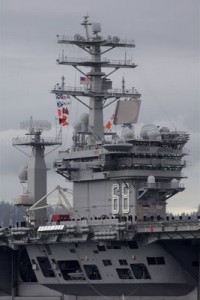 "I saw it from home in Mukilteo this morning. It brought tears to my eyes," she said.
The 40-year-old was in Everett's Grand Avenue Parkon Friday morning, part of an informal welcome group awaiting the USS Nimitz. She had driven from home to get a better look as the aircraft carrier arrived at its new home, Naval Station Everett.
Lambert has a distinction not shared by others I talked with Friday. She hasn't served in the Navy, but she has been aboard the Nimitz.
"I grew up here, in Lake Stevens. I remember the battle over the Navy coming to Everett," she said. A 1989 graduate of Lake Stevens High School, Lambert was a writer for her school newspaper, The Valhalla.
She recalled writing an article for the paper — her byline was then Jenifer Neighbors — in support of an aircraft carrier being based on the Everett waterfront. "I won an award for it," she said. She said the school paper's adviser at the time wrote a piece countering her position.
"I just remember some people thought it would ruin the community. They were fearful of the unknown," she said. "I come from a military family. I was very much for it."
Lambert said her father served in the Air Force in Vietnam. She has an 18-year-old nephew, Steven Neighbors, who has just completed basic training in the Navy.
After her high school paper's Navy base articles were published, Lambert said she was part of a group of Lake Stevens High students invited to tour the USS Nimitz. It was docked at the time in Bremerton, she recalled.
She remembers being amazed that the ship carries a crew of thousands. She was struck by the austerity of living conditions for men and women who spend months at a time at sea. "I had a real sense of their sacrifice," she said.
Lambert is co-owner of an employment business, Terra Staffing Group. "We've helped Navy spouses get jobs. Those families are making their own sacrifices," she said.
The Mukilteo woman was joined by people of all ages at the park to see Everett's new ship, and to do their part to make its crew feel welcome.
Several young women held a 12-foot hand-drawn sign, which read: "Mars Hill Welcomes USS Nimitz to Everett."
"We're here just because it's supporting the troops. It shows a kind heart," said Sydney Fischer, 22. On the windy morning, she held up one end of the sign as 21-year-old Kaitlin Hettinger held the other. They were attending a class Thursday night at Mars Hill Church, which meets at Everett Community College.
At the end of the class, Pastor Scott Mitchell suggested making a welcome Nimitz sign. "We stayed up till 3 a.m. making it," Hettinger said.
Navy veteran Paul Nelson, 62, wore a USS Enterprise cap as he watched the Nimitz dock. He didn't serve on a ship during his Navy service from 1968 to 1974, but has toured the Enterprise, the first nuclear-powered carrier. He worked in an underground facility in Hawaii during his Navy service. "It was under a pineapple field on Oahu," he said.
"It's exciting," Nelson said of the Nimitz arrival. "It means more people, and more disposable income."
Greg Halstead, a 55-year-old Air Force veteran, came from Marysville on Friday morning to see the carrier at its new pier.
"I'm glad to see they replaced the Lincoln," said Halstead, who recently lost his job at Everett's Kimberly-Clark mill. "It's good to see somebody with jobs," said Halstead, who also was pleased by recent news that several destroyers will be based at Naval Station Everett.
I remember what Lambert remembers, a time when some people in the Everett area were wary of changes the Navy might bring.
It was 1983 when John Lehman, secretary of the Navy at the time, proposed a new Puget Sound area base as part of the Navy's Strategic Homeport concept. The following year, Everett was chosen as the right spot.
An article that former Everett Public Library historian Margaret Riddle wrote in 2011 for the HistoryLink website chronicles the battle to bring the Navy to Everett. Public opposition is part of that story. A group called the Port Gardner Information League publicized possible negative effects if the Navy came to town.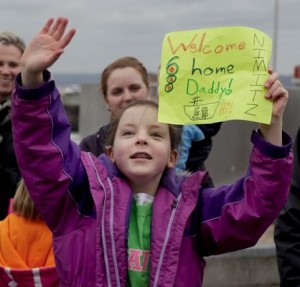 According to Riddle's article, an initiative was put on the November 1984 ballot after people in Everett had voiced strong opinions for and against the Navy. That October, Weyerhaeuser had laid off more than 200 workers in Everett, the HistoryLink article said. At the polls, voters ended up saying yes to Naval Station Everett by a nearly 2-1 margin, Riddle wrote.
It was Sept. 3, 1994, when the USS Ingraham and USS Ford arrived, the first ships assigned here. The USS Abraham Lincoln made its move from Bremerton to Naval Station Everett on Jan. 8, 1997. The Lincoln officially left its Everett home Dec. 7, 2011.
As we got to know a very good neighbor, whatever doubts this community had about the U.S. Navy in Everett were quickly torpedoed.
[quote]"The Navy is an asset to this community," Lambert said. "It makes me sad that all those years ago, some people assumed the worst. The Navy has proved them so wrong."[/quote]